Artist Essentials Drawing Toolkit
LIMITED TIME BONUS OFFER!
FREE 3-hour drawing lesson with Atelier Director, Gabe Coke with purchase of an Artist's Essentials Toolkit*

Toolkit Includes 48 Charcoal Pencils ( Sizes 2B, 4B, 6B), 12 Graphite Pencils, Pencil Extender, Olfa Sharpening Knife, Retractable Eraser Stick, Eraser Stick Refills, 12" Tool Box. Available for purchase in store only.

Price: $130+ tax

*Offer valid for new Atelier students only. Offer expires November 30th, 2018. Available for purchase in store only.
A full color range of natural and historical pigments made as they were before modern tube colors - pigment and oil - without additives. Ideal for bristle and soft-hair brushes on both fine weave canvas and smooth panels.
Artefex Rigid Panels for Drawing & Painting
Two-sided aluminum composite sheets laminated to a solid core, available in a variety of sizes, primed and unprimed. Ideal for a variety of paint and drawing mediums and applications for mounting fabrics, papers and polyester films including acrylic, drawing (charcoal, ink and silverpoint), encaustic and wax, tempera, watercolor or gouache.

A full color range of paints made with the same pigments used by watercolor masters of the 17th to 19th centuries. The colors are genuine single pigment paints available individually in tubes and cakes. No additives or fillers.
Water-borne wax paint made from naturally-derived waxes for encaustic and wax painting techniques. These fast-drying colors are suitable for all supports used for encaustic painting yet do not require special tools or heated instruments. Use any brush suitable for water-based paints. Ceracolors are available in 50ml tubes. Ceracolors Mediums, Gels and Pastes are also available.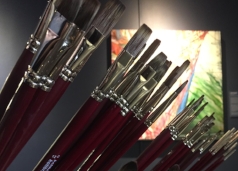 Hand-made in Germany since 1898. Oil paint brushes include a variety of handle and tips made of natural animal hair and synthetic materials. Watercolor brushes including natural animal hair, synthetic fibres and natural /synthetic blends in a range of thicknesses and tips.